A Mobile Safari Adventure...
Adventure
The closest I have ever come to nature on any organised safari I have experienced in Botswana
When I hear the term Mobile Tented Safari I can't help but get excited. It is probably the closest I have ever come to nature on any organised safari I have experienced in Botswana. It is my preferred choice of accommodation and can be classed as a cross between camping and staying at a lodge. You receive the same level of guiding you might expect at a 4 star lodge, but the camp itself lacks some of the luxuries such as a king size bed in an often oversized room, air-condition, a flushing toilet and a swimming pool. This might not sound all that enticing but perhaps a glimpse of my unforgettable experience will allure you...
After spending a few days on a fly-in safari at some of the top rated camps in the Okavango Delta, I arrived back at Maun airport. Already on a high, having seen two sets of Lion cubs, Wild Dogs and plenty more wildlife, I wasn't sure if a mobile safari would top this experience.
My meeting time with the operator was pre-arranged and before I knew it all guests were aboard, and the 7 of us including guide, were on our way to the Moremi Game Reserve. The drive was spent getting to know one another, enjoying our surroundings and stopping for some elephant and giraffe crossing our path along the way. When we arrived at South Gate, the main entrance to Moremi Game Reserve a good 2.5 hours later, it was time to take a break and stretch our legs. We were provided with a few snacks and an opportunity to stock up on drinks, whilst the guide registered our arrival and paid for our park entrance fees.
After another hours drive we continued past a small lagoon, enjoying the sight of what was soon to become a beautiful sunset. I saw some lights in the distance and my excitement grew as I realised we were nearing our camp.
We were received with a warm welcome and a casual warning that a Leopard had strolled through the camp a mere 20 minutes earlier. On the one hand I wasn't too happy I missed the spectacle, on the other I thought it actually feels a lot safer knowing it had come and gone and I knew I would get to see another Leopard anyway. It's Moremi Game Reserve after all and I had never failed to see one on any of my previous visits (and we did...).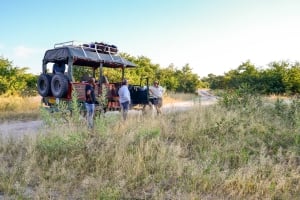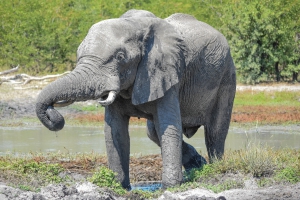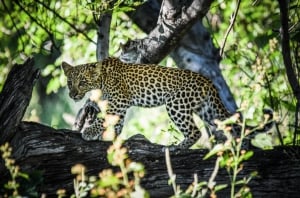 Having had a chance to look around the camp and receiving a brief introduction about the logistics and operations, it was evident that a lot of effort had been put into the setup. What started off as an open spot in the midst of nature, with no access to electricity or running water, was miraculously transformed into a fully functioning camp within half a day. I was impressed by the level of detail and thought that went into the planning, which had never occured to me before. Every ounce of water and every bit of food was transported to the location for our stay. Solar panels were set up for the basic lighting needs and to keep the food refrigerated. A sleeping area was created for guests, seperate staff quarters, a dining 'room', bush kitchen and a little boma which doubled as a viewing deck overlooking the lagoon.
The sun was setting and armed with a torch I finally had a chance to explore my room. Each person was allocated their own tent except for one couple which was sharing. They were meru tents, each equipped with two single beds, a bedside table with some water, mosquito repellant, insect spray, a small lamp and a torch. To the front left of the room was a small porch with a chair to sit and enjoy the views and could be a potential spot to sit whilst enjoying a good book. To the front right there was an outside bathroom equipped with a mirror, table, soap, some tissue, a towel and a canvas sink which contained a jug of water. The water in the jug gets heated on cooler days and is refilled by the staff throughout the day. A few steps from the tent you would also find your private bush toilet and bucket shower.
I was one of the first to test the bucket shower and although it wasn't my first, it was a great reminder that a shower is possible with only 20 litres of water, even if you wash and condition your hair that almost reaches down to your waist.
The shower was followed by a homely dinner at a beautifully set dinner table, which was the same place we would enjoy all our meals over the next 3 days. The food was better than expected and although I didn't get to enjoy eggs and bacon every morning, some maize porridge (Bogobe) cooked over the open fire did the trick. Lunches and dinners hit the spot with a combination of vegetables, starches and meat to chose from.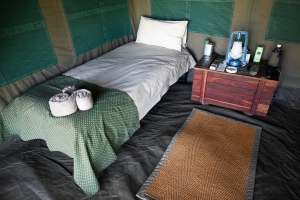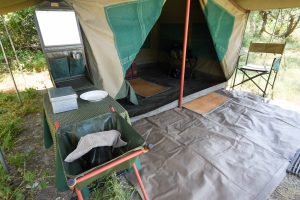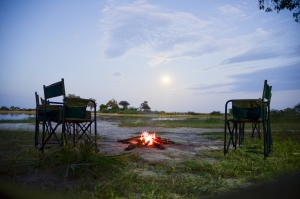 As much as just being out in the midst of nature is rather enjoyable, the favourite part for everyone remained the game drives and numerous wildlife encounters. We started a routine by heading out just after sunrise, stopping near the lagoon in front of the camp at the start of every day. A flock of Skimmers were using the lagoon as their feeding ground which made for some great photographs against the orange sky in the background. We then continued in the direction in which we heard lions roar throughout the night, in the hope that we would cross paths.
We never managed to see the lions but some of the highlights included my first ever Leopard cub sighting, a herd of over 100 Buffalo, countless Elephants big and small, Hippos, Skimmers, a lone Pygmy Goose, Wattled Crane and plenty antelope including Impala, Blue Wildebeest, Red Lechwe...
We would head out each morning and afternoon for a couple of hours to slowly add more and more sightings to our list. A nice surprise was added on the afternoon of day two where we stopped at the Xaxanaxa lagoon to head onto the Okavango River by boat, myself enjoying the views from the top deck and catching a short snooze whilst floating along the river. My kind of heaven.
After a 3 night stay our adventure came to an end and a slightly less excited group of people made their way back to Maun. What was a funfilled, adventurous, eco-friendly and down to earth safari experience sadly came to an end. Most of us were dropped off at Maun airport to meet our onward connecting flight, or in my case my journey was due to continue to the Makgadikgadi.
If you still find the need to be convinced about whether a mobile tented safari is right for you, perhaps you might prefer staying at one of the luxury lodges listed in our
accommodation
section instead. You will need to be okay with using a bucket shower and bush toilet as well as a lack of luxury. Think rustic safari. If this sounds like something you might love, head on over to our inspiration section to learn about the in's and out's of booking a mobile tented safari.
Written by:
Corinna Horsthemke
PUBLISHED: Sep 20th 2018