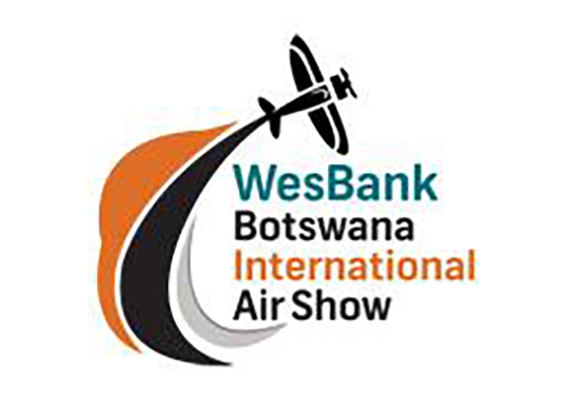 Wesbank International Air Show
Sat May 25th 2019 at 09:00 until 17:00
---
Botswana
Botswana
https://www.myguidebotswana.com/events/wesbank-international-air-show
VISIT WEBSITE
Event Details
The annual Botswana Airshow will be held at the Matsieng Aerodrome (FBMA) in Botswana on 25 May 2019. The program offers a full program filled with excitement, attracting aviation enthusiasts from southern Africa.

Tickets are available at selected outlets and will set you back P120 per adult, P60 for children age 6-17 and free for children 5 or younger. You may also like to purchase your ticket at the event with the entrance located at Gate 1 (see map). If you prefer something more inclusive, P1200 will buy you a VIP ticket. This incorporates access to an exclusive viewing deck, free snacks, free lunch, free softdrinks, beer and wine (cash bar for hard liquor) and VIP access to air show grounds.

Gates open: Saturday from 8:00 to 16:00
Air Show ends: 17:00

ALL PROFITS ARE DONATED TO LOCAL CHARITIES AND WORTHY SOCIAL INSTITUTIONS.

The line up is as follows (Gates open at 0800hrs):

09:00 Opening: Pierre Jacobs/ Hot Air Balloon
09:30 Botswana Skydive Parachute Drop
10:00 Slick 360 Conrad Botha
10:15 Boeing Stearman- Ivan van der Schaar
10:45 Pitts Special Formation: Good Year Eagles
11:00 Slick 540 Neville Ferreira
11:15 T5 Harvard's- Puma Energy Flying Lions
11:30 L29 Albatross Jet- Glen Warden
11:45 EXTRA330SC- Nigel Hopkins
12:00 Team X-treme- Nigel, Mark H, Mark S, Jason
12:15 Bell 407 Altech Netstar Alister Brown
12:30 Antonov AN2 Little Annie- Mark Hill
12:45 Raptors RV-Formation- Pierre Gouws
13:00 Extra 300- Absolute Aviation- Jason Beamish
13:15 R44 Helicopter True North Aviation/I-CAT
13:30 Extra 300LP- Andrew Blackwood-Murray
13:45 Botswana Skydive Parachute Drop
13:55 CHARITY Handover Ceremony
14:00 Botswana Model Aircraft- Thero Matenge
14:15 EXTRA330SC- Nigel Hopkins
14:30 R22 Helicopter- Danie Terreblanche
15:00 Aerospatiale SA316 Alouette 11&111 Helicopter- Juba/Rob
15h15 Slick 540 Neville Ferreira
15:30 Raptors RV-Formation
16:00 L29 Albatross Jet- Glen Warden(Flame)
16:10 Air-Tractor- True North Aviation
16:30 Pitts Special Formation: Good Year Eagles
16:45 Magni Gyrocopter- Matthew Zalewski
17:00 Team X-treme- Nigel, Mark H, Mark S, Jason
17:30 T5 Harvard's- Puma Energy Flying Lions
17:45 R22- Danie Terreblanhe
18:00 CLOSE

Organizers reserve the right to add more surprises, or cancellations.
Provisional 2019 program will be posted by 1 May 2019.

IMPORTANT NOTICE:
No food or beverages will be allowed through the gates.
Empty cooler bags will be allowed through the gates.
No picnic or recreation of any sort will be allowed in the parking area.
No buses exceeding 8 people seated.
No admission will be granted without a valid entry ticket or permit.
The public shall enter and use the parking area as well as the premises at their own risk and the organisers and the owners of the premises cannot accept liability for any loss or injury to any person or property.
Any form of misbehaviour or criminal activity will be handed over to the members of the Botswana Police Service.
The public may not enter any fenced off zone allocated to aeroplanes and other vehicles. Trespassers will be escorted off the premises immediately without refund of any kind.
Members of the public are strictly not allowed to access the VIP-tent area.